Rita has been politely asking me for a while now to write up the post on the benches I made in the kitchen. I've been putting it off for a while. I was writing it this summer when I woke up one morning with Bell's Palsy. (I think Rita wrote about it somewhere on the blog here?)
Anyway, half my face was not working at all. I'll spare you all the details but it was a rough time for a while. I'm about 50% back to normal now and just this week felt like I could manage something that looks like a smile. That sort of let the steam out of the bench post project. I'll still write it up soonish. As soon as I find the paper that I scratched all all the measurements on. We really like how our kitchen eating area turned out and want to share how we did it.
So, instead I'll write up a different project. This one was really fun. A few weekends ago Rita and I were having an in-town day. That's what we call a day where we leave the 'burbs and head out into the big city of Portland to do cool grown up stuff. We started with breakfast at Grand Central Baking.
We like the neighborhood it's in and its proximity to The Rebuilding Center. Part of the reason for the day in town was that Rita was hot for a new door for the front of the house. She had seen one there that was groovy 70's and the measurements were the same as our current door. It was exactly the kind of door we've been wanting to replace the 1990's  stock front door that got put on our house probably a decade or so ago.
The door was in fair shape. The finish was worn out and there were some cracks in the decorative carving but no biggie. On further inspection though I noticed that there was some broken glass in one of the small panes.
For once we did the smart thing and made some calls instead of just buying it and trying to figure it out later. We quickly realized that replacing the glass was going to be a really big deal. Although the glass is on almost every house in our neighborhood, it seems to be rare in glass shops. I'm thinking it's because everyone in our neighborhood is trying to get rid of it instead of putting it in like us.
Anyhow, there are quite a number of doors like this in our neighborhood, and Rita and I have door envy when we go for walks. The design is very 1970s and would be totally appropriate for our house. We even have that exact glass in the windows on the sides of our fireplace. The door wasn't going to happen though. We had to cost it out with the idea that we'd likely have to replace the glass in all the panes because we'd never get a match. That was going to be really expensive.
Well, not to worry though. We did some creative accounting and realized that we just saved 100 dollars! Woohoo.
Nothing makes Rita happier than chair shopping, and we now had money to spend, so our next stop was City Liquidators's used furniture warehouse. It's full of old obsolete office furniture. It's quite a place (which we wrote about recently when we scored a really cool office chair for the downstairs desk at a thrift store that was not City Liquidators).  We're now on the lookout for a second chair and this was our most likely spot to find one.
Below is a selection of chairs from the warehouse that we found that day.
In the end none were quite right. We sat in a bunch and some were OK. There weren't any that just jumped out at us. We are trying to get a bit smarter about not just getting stuff because we think we need it. If a chair is going to come home with us we really have to love it. We didn't love any of these.
The upside? A bit more creative accounting and we figured that by passing on the door and the chairs we considered, we had saved $140!
Then, on our way home, we drove through the waterfront warehouse district, and through the corner of my eye I spotted a pile of wood on the sidewalk. I gave Rita a quick "look at that" and jumped out of the car to see if there was anything interesting in the pile. What I found was some old boards that looked like they were part of a table top. I'm not sure of the wood. They were really worn and dark. I'm sure they are a hundred years old easy. I grabbed them all and threw them in the back of the car. It was a nice score! (But we didn't get a picture because it all happened so fast.)
OK, here's the part where I talk about building the table.
Just by coincidence I had recently found this image online. It was really just what I was looking for. We've been using an old WWII foot locker as a coffee table since we moved in. It's not exactly right but we've been making it work until we found something else that would work better. This table looked like something that would be perfect for us. Plus, it looked easy to build.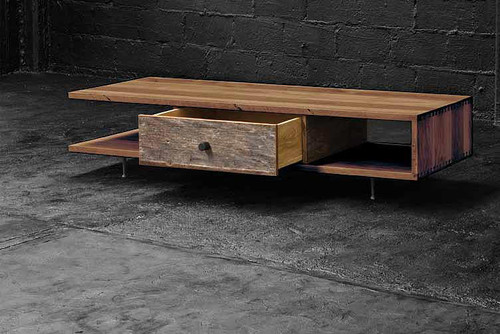 Before diving into how I took a pile of abandoned wood and turned it into something like that table, I've got to say something about the whole reclaimed wood craze, which Rita and I are a bit wary of contributing to. We've been known to make fun of some of the things that people make with pallets. Some of it can be fairly ridiculous. The bed below is a great example. Besides the colorful dresser and art, the bedroom looks more like a prison cell.
We're all for simple and economical and repurposed, but given the deliberate styling in the rest of the space, it seems pretty clear this bed design was a choice made purely for aesthetic reasons. And it just seems kinda silly to us, at best. If pallets weren't currently a hot craze, we bet people wouldn't think this is a great idea. It sure doesn't look too comfortable, and we think before a bed is anything else, it's got to be comfortable. (Form always follows function for us.)
But there's more than silliness that bothers us. Given that some people actually have to sleep in institutional settings on uncomfortable beds–or don't have homes to sleep in and might need to create a makeshift bed out of pallets because they have no other options for keeping off the ground–this kind of design statement just rubs us the wrong way. It feels wrong in the same way that recreational slumming is wrong.
We're even wary of more-functional furniture that's made from reclaimed wood. So many trends start with a really good idea and then get all screwed up with commercialization. We love the idea of making things with found and recycled materials. It's earth-friendly and encourages creative expression. It's cost effective and produces things that are way different than what you'd find at Ikea. (Not that we don't love us some Ikea, as you can read about 
here
.)
The problem comes when you start to see expensive, fake reclaimed wood furniture or real reclaimed wood furniture that costs four times as much as it otherwise would just BECAUSE it's made from recycled material. Then it's not about being economical or green. It's just about being fashionable.
For example, here's a coffee table you can buy (for more than $300!). It looks like a one-of-a-kind piece, but it's not. It's mass produced in large quantities with a "distressed wood look."
We want to stick to the original idea of reclaimed wood furniture–creating functional, earth friendly furniture that's beautiful and budget friendly. It could be a way for ordinary, middle class people like us to get some beautiful furnishings in our home without spending a fortune. It's also a way to express some creative vision.
Furniture made simply with simple tools and found materials is really appealing to me. It's
why I really love the work of Enzo Mari
(who inspired the kitchen table/benches I still need to write that post about). He also championed the idea that good design was for everyone and not just the rich. Power to the people you know?
So I set out to make some furniture with all that rolling around in my head. Could I make something that was perfectly functional and beautiful with found materials and simple construction methods?
OK, here's where I really talk about building the table
Thinking about the pile of wood in the back of my car, the coffee table looked like the perfect project for it. I just so happened to have bought some old drawers at The Rebuilding Center that same morning (instead of the door). Way in the back of the store they have a pile of old drawers for sale for 2 bucks each. If I had room in the garage I'd buy a bunch of them to have on hand for projects of some sort. Making drawers isn't easy.
The next weekend I got up on Saturday morning and went out to my woodpile to formulate a plan. I got out the reclaimed wood and laid it out to see how long it was and what size table I could make from it.
My plan was to make the table as large as I could from the available boards. I wanted to incorporate a drawer. I also wanted to build it from wood that I already owned. No buying more wood. My requirements:
Use only wood I already owned.
Use simple construction techniques that are available to most anyone.
The finished product MUST be functional. It has to work like a coffee table.
The finished product must be beautiful. Why should we put things in our homes that are not beautiful AND functional?
It had to work in our space. It needed to fit in the downstairs family room or in the upstairs living room.
With a project like this it's best to let the materials dictate the plan. What I mean is that I couldn't draw something out in detail and then carry it out because I might not have the materials on hand to do it.
Instead, the way to go is to have a general idea of what I want to make and change the plan along the way as material availability dictates. That's part of our UnDesign philosophy. It's designing on the fly.
Really, for me the fun in that kind of design is that I never quite know what I'll end up with. Half the reason I finish projects is so that I can see what it's going to look like. If I had a finished plan in my head and executed it exactly as I imagined it I don't think I'd be as motivated to finish half of what I start. I love the idea of designing one part at a time as I build. It allows me to keep the project design open until the very last minute so changes and alterations are always a possibility. I either end up with something super creative or a real disaster.
Looking at the model image that first gave me the idea for the project I knew that I wanted and upper and lower deck with a drawer sandwiched between. My first goal was to create those decks. I split the wood I found into two groups that made roughly even slabs. I sanded everything down enough to take off the old finish but not enough to remove all the character of the old wood.
The tough part of a project like this is joining the boards together. In the past I've used a pocket hole jig that I've owned for years. It cost me less than 20 bucks and does a great job of joining boards end to end or at 90 degree angles. I decided to go that route because I could do this in a way that all the pocket screw holes would be hidden.
Although I had my old jig that worked, I took this opportunity to go to the Depot and pick up a new one. I was going to need to make a lot of pocket holes, and this guy is awesome! It makes pocket holes really easily. It works with all thicknesses of wood up to 2 inches wide. It's got built in gauges, so no measuring needed. This jig makes the process quick. (And we did save more than $100 on the door, right? :-))
You can see in the image below the hole made by the jig. It uses special screws that are designed to snug everything up tight without splitting the wood. Glue is optional.
If you want to know a bit more about pocket hole jigs here's a video with some good information on the options and how they work.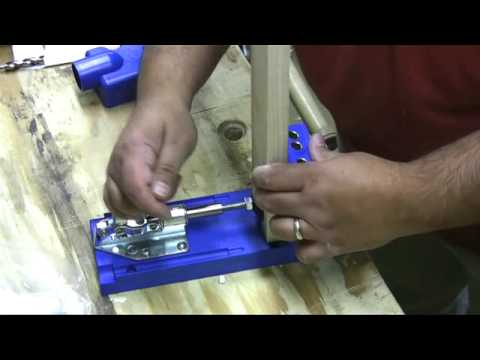 The nice thing about pocket screw joints is that unlike other methods of joining wood, you can handle these right away. No need to wait overnight for things to dry. I was able to grab my two slabs and rip them on the table saw to make them exactly the same size and straight and square.
I'll spare you most of the construction details as they are unlikely to be helpful to anyone as this is a one of a kind piece. My next step was to build the 3 sided enclosure for the drawer. It's sandwiched between the 2 slabs.
I found some extra wood from a table top fiasco from a while back. It was thick and clunky and didn't match the other wood at all. (In other words, it was perfect.) A bit of measuring, cutting and joining together with pocket screws and I had a perfect enclosure for my Rebuilding Center 2-dollar drawer. The enclosure is attached to the slabs with pocket screws. (I didn't bother to add a drawer slider. It slides in and out easily without one, and it's not a drawer that will get a lot of use.)
Since the drawer is offset to one side I needed to reinforce one side with a support since our kids have a habit of sitting on furniture. My solution was to cut a couple of pieces of 2 x 4 I had lying around and attach wit–what else?–pocket screws.
I wrapped the 2 x 4's with some reclaimed wood I had left from our stair project. A few quick cuts on my chop saw and some nails and it was done.  Besides the few trim pieces that were nailed in place, everything else was done with the pocket screw jig. It really is a marvel.
I thought about putting some tiny retro feet on the table. It may have been a better look if I had. I really like wheels on furniture though. Maybe because I'm usually the person who cleans the floors? If I had my way everything in the house would be on wheels.
Anyway, I know the furniture on wheels thing is a bit trendy right now, too, but I wanted them for functionality.  I can always replace with feet later if I want.
So, the only real expense for the project was the cost of the wheels- 12 dollars and the cost of a handle for the drawer- 4 dollars. Pretty good!
The free materials are part of the plan when you UnDesign a project like this. Because I didn't spend big money on lumber I could be a bit more experimental and not worry about failure. If the whole thing went haywire I wouldn't lose a bunch of money. That's the advantage of using reclaimed and recycled materials. That's why spending a fortune on reclaimed wood or recycled parts does not make sense for us.
The lesson I learned was that if you want creative , one-of-a-kind stuff you have to be willing to take risks. Taking risks is easier if you have the right process and can stomach the possibility of failure. Risk taking and allowing for failure is not the usual DIY path, but if done the right way I think you can get brilliant results that far surpass what you get by going the safe route.